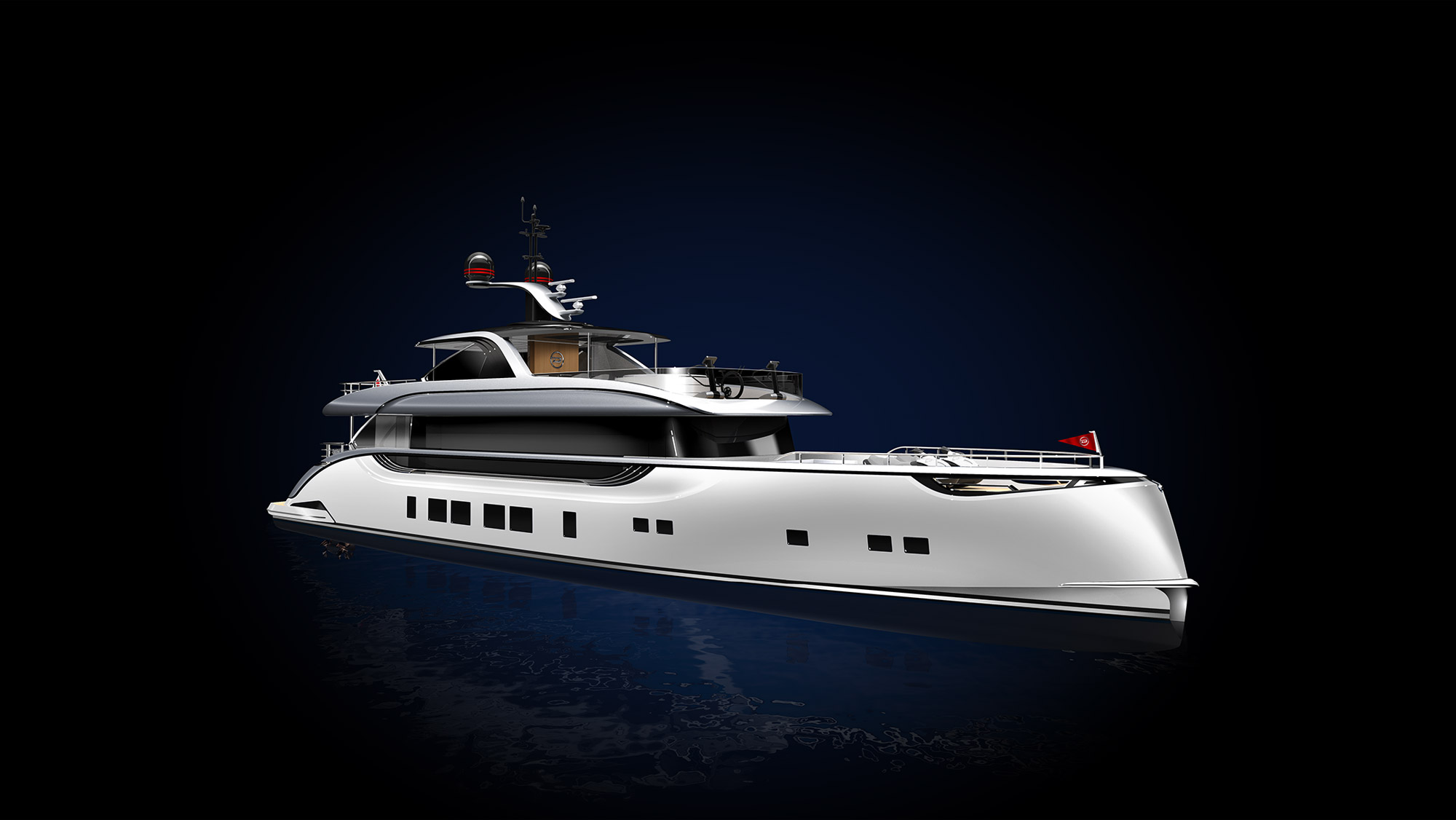 GTT130 is a perfect, fast family cruiser just below 40 metres built on a platform that has been designed with a shallow draught of only 1.7 metres – ideal for the Mediterranean, Caribbean or Asian islands. With the largest sundeck in her class and with options for four or five guest cabins, she is the perfect realisation of top comfort in a practical and relatively compact size.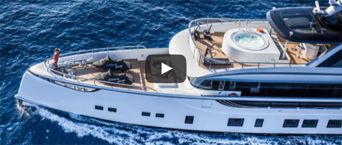 Please use slider below to explore GTT 130 signature features
Aligned horizontally, Fortjes pods are much more efficient than any system using shafts and propellers. Their positioning outside the hull also means greatly reduced noise and vibration levels, as well as lower emissions. The pods use counter-rotating propellers linked via a compact gearbox to the main engines, reducing engine room space requirements by nearly 18%, which means more accommodation for you and your guests. Built in Germany, Fortjes pods are the perfect compliment to the Dynamiq range of efficient performance yachts.
Dynamiq's unique hulls are the foundation of our efficient yacht concept. Two of the biggest names in superyacht naval architecture, both based in The Netherlands, applied their collective expertise to create the hull lines of the Dynamiq series. Drawn by Azure Naval architects and optimized by hydrodynamic specialists Van Oossanen, Dynamiq yachts feature a modified round-bilge design that gives a hull with a remarkably low resistance figure, so Dynamiq yachts are characterized by low fuel consumption while still being capable of high speeds. The design also decreases vertical accelerations in the hull – and that translates to a far more comfortable motion when sailing. Dynamiq's avante-garde styling matches the cutting edge design work that has gone into creating a modern bow shape with a vertical stem. This maximises the waterline length, enhancing performance even more. To keep spray levels low, an integrated spray rail deflects water hitting the bow area.
The motion of your yacht at sea and at anchor is critical for comfort on board. That's why Dynamiq uses cutting edge electric stabilizers from CMC Marine to reduce roll underway by up to 85% and at anchor by up to 55%. The electric system has several advantages. The stabilisers are far quieter, more reactive, take up less space and are more power efficient than hydraulic counterparts. With no hydraulic systems running through the yacht there is also no risk of interior damage following a hydraulic system failure.
DuPont paint systems provide the best protection against abrasion and ensures that your yacht retains its mirror-like finish longer than conventional yacht paints. Plus, DuPont offers the longest and most comprehensive warranty for its finishes in the industry.
Panasonic WV-SP105, HD network camera is installed in the bow providing great views in saloon and guest cabins.
Dynamiq yachts feature special, next-generation laminated XIR glass with a natural clear appearance that allows maximum light transmission, while keeping solar heat gain at bay. Harmful UV rays are almost completely blocked, and heat transmission reduced by 60%. The result is an interior that offers the vast panoramas of large windows but without the penalty of heat build-up. This means significantly reduced air-conditioning loads and therefore lower running costs. Developed by US-based Southwall Technologies, XIR glass is widely used in the luxury automotive sector.
The huge, 1,290 square foot sundeck is bigger than those found on much larger yachts, and has been created to allow maximum flexibility and functionality. It has been carefully designed with five versatile zones: an aft sunbathing area, an alfresco dining area with optional home theatre, a bar and barbecue zone, a spa pool, and a forward sunbathing area that can also be specified as an optional exterior gym
The audio-visual system comes from Britain's Bowers & Wilkins, one of the world's most respected makers of handcrafted, high-end audio. The system uses 21 high-quality speakers with a total power of 6,120 watts to fill your yacht with pure digital surround sound. The positioning of the speakers has been expertly analysed to ensure optimum output. The saloon features PM1 standalone speakers with carbon braced tweeters that deliver the ultimate in pure audio, as well as working as part of a sophisticated home theatre set-up.
T23 wireless HUE lights situated on the sun deck, linked to the music/DJ mixing deck. Countless ambiant light scenarios and disco light, controlled via iPad.
In terms of function, the Roman 195 from Riviere Pools line leaves nothing to be desired: numerous powerful air jets work against tight muscles and provide a strong pulsating air-water mixture at body temperature to stimulate your body and soul. The massage jets massage the muscles where needed.
A selection of Technogym equipment is available for you to choose from in the Dynamiq online configurator on www.bedynamiq.com and will slot seamlessly into the open-air top deck of your yacht, giving you the best vista possible while doing your workout.
MAIN Dimensions
Length overall 39 m / 130'
Draft 1.75 m / 5'9''
Sun Deck length 20.5 m
Sun deck area 120 m2
Beach club
area
30 m2
Beam moulded
7.2 m
Beam overall
7.7 m / 25'3''
Interior headroom (max)
Sun deck

2.3 meters / 7'6''

Main deck

2.2 meters / 7'3''

Lower deck

2.2 meters / 7'3''
Specification
Building time: 17 months from contract signature
Hull type

Round-bilge, fast displacement

Length overall

39 meters / 130'

Length (aft platform open)

41.3 meters / 135'6''

Beam overall

7.7 meters / 25'3''

Draft

1.75 meters / 5'9'

Gross tonnage

240 tons

Material

Full aluminium

Max speed

21 knots

Cruising speed (85% rpm)

19 knots

Range

3,000 nautical miles @ 10 knots

Fuel consumption

80 liters/h @ 10 knots
535 liters/h @ 19 knots
650 liters/h @ 21 knots

Fuel

25,000 liters / 6,600 US gallons

Fresh water

7,000 liters / 1850 US gallons

Guests

8/10

Crew

6

Classification

RINA C ✠ HULL, ● MACH, Ych,
Short Range, LY3 compliant

Notations

RINA Comfort Class,
RINA Green Star

Flag

Cayman islands / Malta

Main engines

2x MAN V12-1800,
1324 kW @ 2300rpm

Propulsion

2х 4000 Fortjes POD drives
with contra rotating propellers

Generators

2х 53 kW, Kohler

Bow thruster

Electrically driven,
CMC Marine, 37 kW

Stabilisers

Electrically driven, CMC
Marine, zero-speed fuction

Air-conditioning

Condaria HVAC system,
480,000 BTU/hour

Naval architecture

Azure Naval Architects

Exterior design

Dobroserdov Design

Interior design

Bannenberg & Rowell
Price excludes all options, taxes and charges